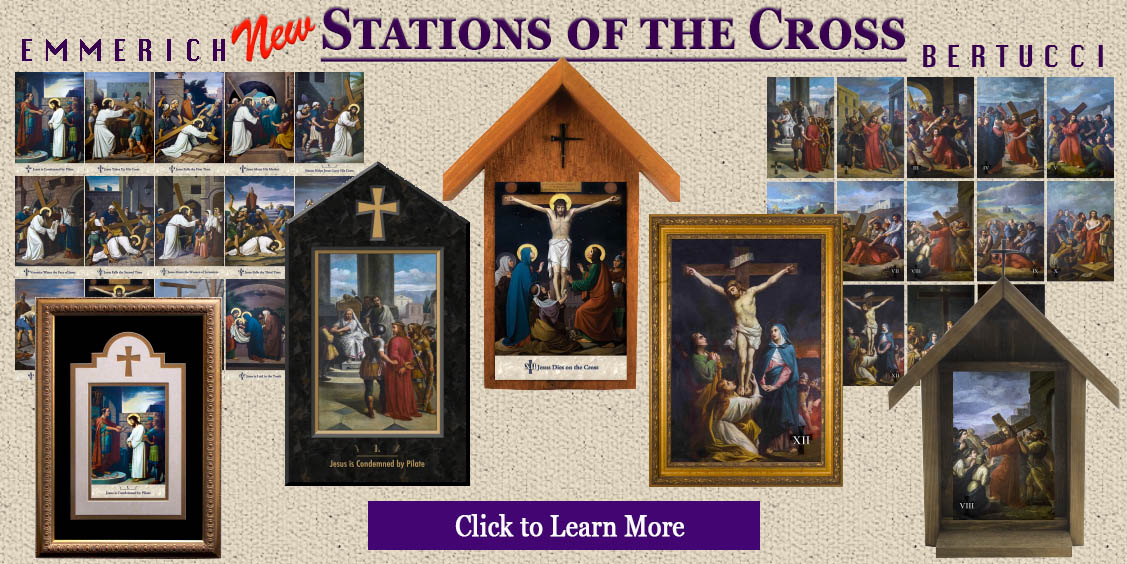 Since 2007, our line of Stations of the Cross devotional implements have inspired countless bookstore customers and online shoppers with clear and bold depictions of our Lord Jesus Christ and the final hours of His passion.

Once a rare and expensive commodity reserved only to churches, renowned Catholic manufacturer Nelson Fine Art & Gifts of Steubenville, Ohio, now makes the Stations of the Cross devotion available for home use in a variety of styles, sizes, and prices. As part of your Lenten devotions, attune your heart to the love of God by praying the Stations of the Cross and meditating on the sacrifice of His only Son.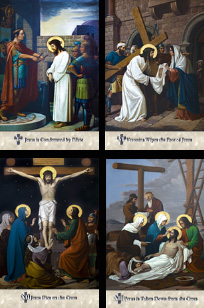 The Emmerich Stations of the Cross set is named after Blessed Anne Catherine Emmerich, the German nun and mystic who wrote the highly infuential meditation The Dolorous Passion of Our Lord Jesus Christ. This set of stations was painted in the German style by an unknown artist in the late 19th century. Recognizable for its illuminated golden halos around the heads of Christ and His followers, as well as for the rich contrast and shadowing throughout the set, the Emmerich Stations of the Cross convey the beauty and sacrifice of Jesus' Passion with a blend of modern and traditional styles.
.
The Bertucci Stations of the Cross set is named after the unidentified artist who painted the images in the late 18th century, thought to perhaps be the obscure Italian painter Nicola Bertucci. Characteristic of the Italian, late baroque style, the Bertucci Stations of the Cross feature lush textures and vivid coloration, particularly in the deep blue sky and the vibrant red robe worn by Christ. With the Blessed Mother taking over as the central figure in stations thirteen and fourteen, these Stations of the Cross offer an additional element of Marian devotion and meditation that is unique to this set.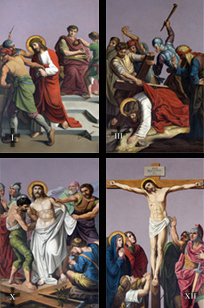 The images of our traditional station set (image #320) are taken from the Stations of the Cross at St. Peter's Catholic Church in downtown Steubenville. If you have ever been to Steubenville, you likely saw the magnificent red/orange dome of St. Peter's towering above the downtown Steubenville skyline. St. Peter's has the honor of being Steubenville's oldest parish and the most beautiful church in our diocese, seconded only by its identical twin to the far south, St. Mary of the Assumption in Marrietta, Ohio, which was granted the status of a Minor Basilica by Pope Francis in 2013. St. Peter's is easily the most famous and influential of Steubenville churches, so it would make sense that we would fashion our original set of the Stations of the Cross after the ones displayed in this beloved parish.