Nelson Family Partners
Become a Nelson Family Partner
The Nelson Family are friendly, well-known people in the Catholic world, so it's no surprise the family's for-profit ministry, Catholic to the Max, loves having partners! From fellow small business owners to parishes, religious orders, bloggers, and non-profits, our network is wide and very diverse.
Here are some ways you can partner with Catholic to the Max.
This last one is honestly the most important of all…
Online Affiliate Program

By embedding links to www.catholictothemax.com in your personal blog, business, or church website, you make a 10% commission when someone comes to our store from your site and buys something.
Your readers get to find a great source of quality Catholic merchandise, we get new customers, and you get free money. The Online Affiliate Program is a win-win situation for everyone involved.
Interested? Sign up today!
Join our affiliate program
Terms and Conditions
Online Affiliates must have a valid and active Paypal account to receive any and all commissions.
The minimum payout level is for all Affiliates is a commission total of $50. This means that you are paid once you have accrued $50 in referral commissions with no payout until that level is reached.
When you refer a customer who ends up ordering with the "send a check" payment option, that commission will not be completed until Catholic to the Max actually gets the customer's check. Why? Because many well-meaning, super Catholic people who love Jesus and Mary just plain forget that they placed an online order with a check payment, and will forget to the send the check to us. No moral failing here, just a simple, very common mistake. About 1/3 of all "send a check" payment orders never ship out from Steubenville because we never hear from those folks again. Oops. Anyway, you will get paid when we get paid, we promise ;)
Online Affiliate payouts always happen on Fridays. So, if you reach $50 in commissions on a Wednesday, the Lord will further perfect you in patience as you wait a couple of days for your payout. Enjoy having a little less time in Purgatory. You don't expect us to monitor this thing 24/7, do you? Well, if we did that, we wouldn't be making cool new Catholic products and helping customers get their things on time. And we wouldn't be paying attention to our kids at night, either. No one would be happy.
We give you a $20 bonus just for signing up as an Online Affiliate! Yeah!! But you still need to get $50 in commissions before you can get a payout. No, we can't order the payout once you've gotten $30 in commissions just because you're "technically" at $50 with your bonus factored in. The program just doesn't work that way.
Online Affiliate accounts must be approved by the Nelson Family or Catholic to the Max staff before you can start referring people and making money. We just want to make sure you're a real, honest website that wants to help people find good Catholic stuff. No bots. No anti-Catholic propaganda. No Pornography. This probably goes without saying, but you never know.
All commission-eligible links must be following-enabled links. No "rel="nofollow"" links will be allowed. This will help us rank better on search engines, and more people can find our great Catholic stuff this way. We like that very much.
Offline Affiliate Program - Make Money for your Parish!

This program allows any parish, school, or ministry to make money back on any purchases made by its members when they log in with a special access code.
You might call this an "Offline Affiliate" program. All Offline Affiliates will receive a special poster explaining the program to be displayed in a parish hall or gathering space, as well as other brochures and pamphlets as necessary.
Offline Affiliate Program Steps:
1. Go to our affiliate website at affiliates.nelsongifts.com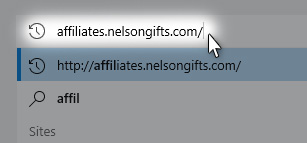 2. Hit the "Signup Now" button on the login page.
3. Fill out the signup form then hit "Create My Account"
4. Congratulations! Your offline affiliate account has been created! You can login into your account but you'll have to wait for an account approval email from Nelson Gifts before you can start making commissions.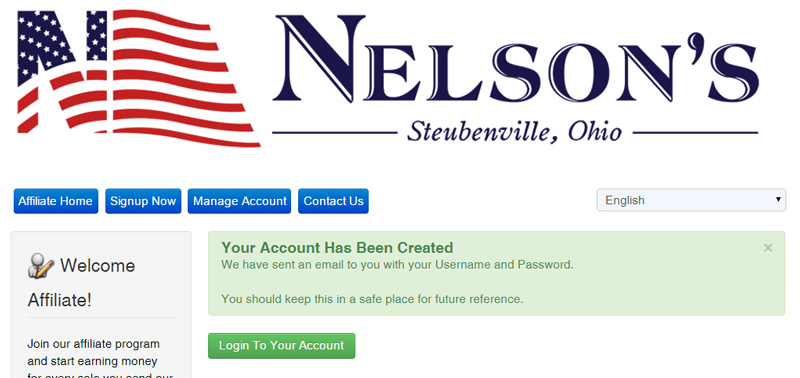 5. Once your account is approved, you'll need to get your affiliate ID number so your customers can use it to earn your parish or organization money. The number is located after the equal sign in your affiliate link as shown below.
6. Now the easy part! Just tell your affiliates to enter and submit your affiliate ID at this address before shopping. Catholic to the Max online: https://www.catholictothemax.com/shopaffiliate
7. Good luck! That's all you need to do to start earning commissions!