The Protector
Introducing a Powerful New Image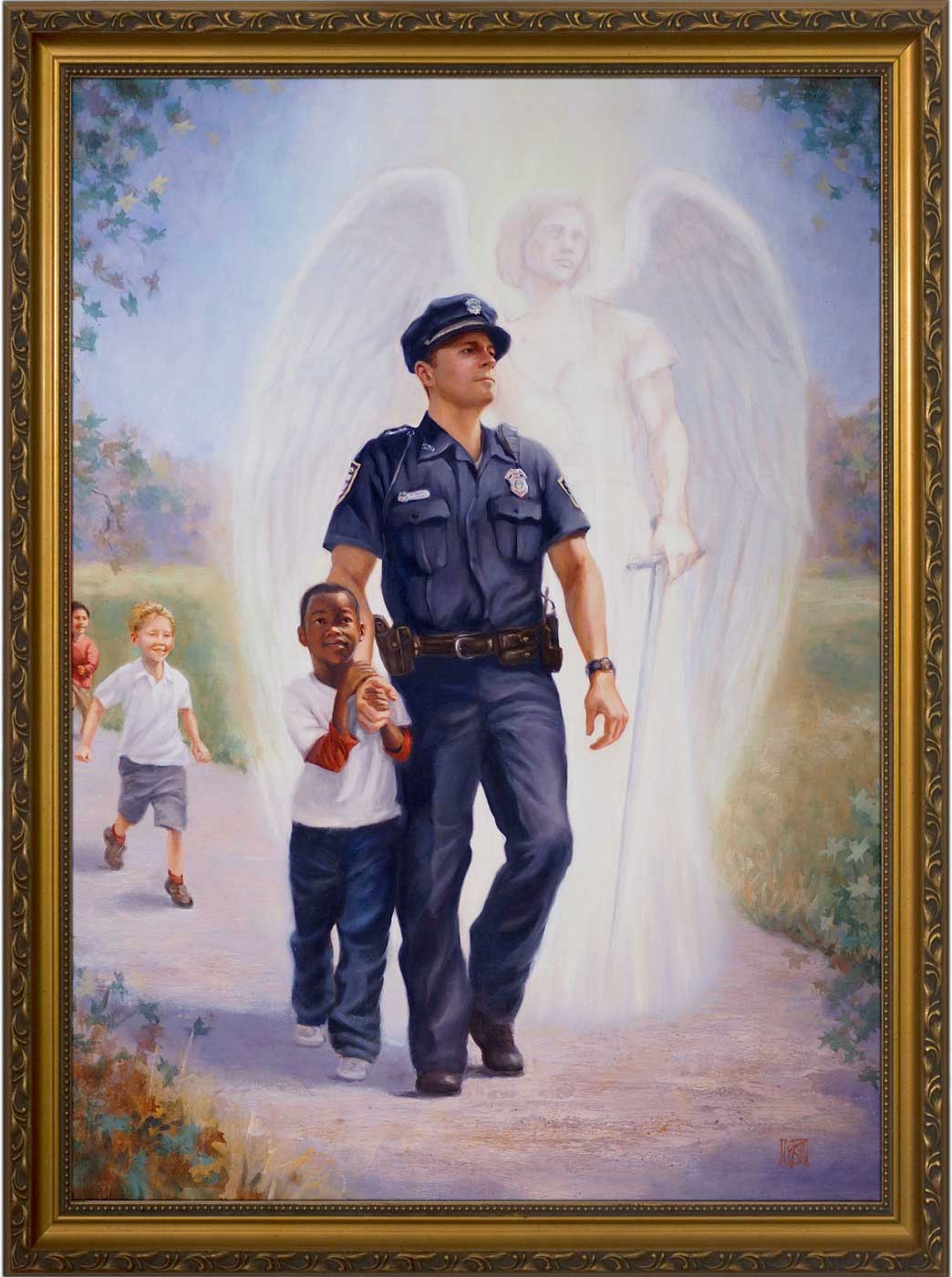 3 Unique Prayers for the Men and Women Who Keep Us Safe
St. Michael Policeman Prayer

A Policeman's Prayer

Prayer for Policemen

"St. Michael,

Heaven's glorious Commissioner of Police, look with a kindly and professional eye on your earthly force. Give us cool heads, stout hearts, and wise judgement. Inspire us by your sense of duty that so pleased God, and your angelic self-control. And when we lay down our night sticks, enroll us in your Heavenly Force when we will be as proud to guard the throne of God as we have been to guard the city of men. Amen."

Lord, grant me the grace to humbly serve my community, quickly defuse anger and tension, make wise decisions in critical moments, and act always with honesty and integrity. Send my guardian angel to walk beside me on the street, ride with me in the squad car, and watch over me at my desk so that I may never betray my badge, my character, or the public that I serve. Grant, O Lord, that my ministry of justice and mercy here on Earth may reflect Your justice and mercy in Heaven. Amen.

O Lord our God, protector of the innocent, judge of the wicked, and strength of the upright, we ask You to watch over those who serve the public as police officers. Protect their bodies as they venture toward physical danger. Protect their spirits as they confront darkness and evil on every shift. Protect their minds as they fight against stress, cynicism, and mental exhaustion. Give them, O Lord, the grace of wisdom and strong judgment in perilous moments. May their administration of justice and mercy here on Earth reflect Your justice and mercy in Heaven. Amen.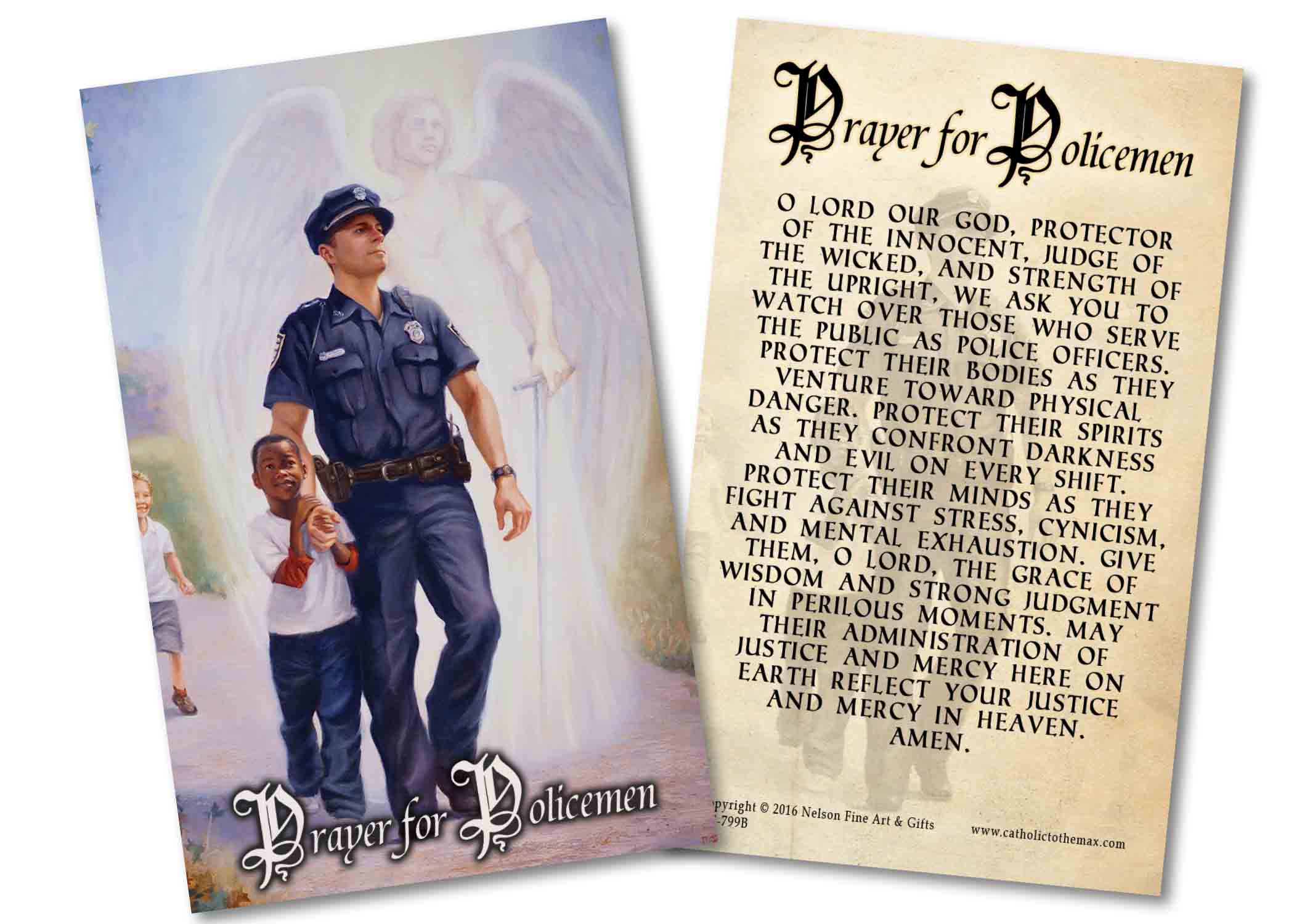 Why Policemen Products? Read the Full Story...
The Protector shows a police officer walking with a young boy and holding the child's hand while, unbeknownst to either of them, an angel bearing a sword walks with them. As the officer protects the child, so does the angel protect the officer.
Where did we find this picture?
Given all the violence and national hysteria that has surrounded policemen in recent memory and is still unfolding today, The Protector seems like something recently painted, doesn't it? The image of a police officer holding the hand of a young African American boy while they are both protected by an angel seems so timely for what America is going through today. However, you may be surprised to know that The Protector was painted over two years ago for an entirely different purpose than diffusing racial tension and uniting a nation torn by violence and counter-violence.
The devout mother-in-law of a Steubenville Police Officer, who himself is married to a Catholic to the Max employee, knew of an artist who had painted for the Steubenville area before. One of these works is the magnificent portrait of a young Karol Wojtyla (Pope John Paul II) as a university student that hangs in Franciscan University's John Paul II Library. The officer's mother-in-law commissioned this artist, L.S. Andrews, to paint an image that would inspire the police officers of Steubenville and call them to prayer, knowing that angels patrol the streets along with them. In 2014, The Protector was dedicated, blessed by Steubenville Bishop Jeffrey Monforton, and hung inside Steubenville Police headquarters.
As the violence and racial tension continued to build throughout 2016 and well into the summer, Catholic to the Max owner Mark Nelson had a moment of inspiration one day: it occurred to him that The Protector, unknown to anyone outside Steubenville, could serve as an inspirational focal point with the power to both unite our country and call citizens to prayer. When Mark reached out to L.S. Andrews to discuss allowing Catholic to the Max to distribute The Protector, she was immediately positive and eager to spread the message through her painting – she, too, could see the timeliness and potential significance of this piece on a national scale, given all that has recently happened.
Less than a week after that initial phone conversation, The Protector became available on Catholic to the Max's website.
The time is ripe for an image like this to go viral and make its way into the hands of Catholics, Protestants, police officers, friends and family of police officers, and all Americans to spread the knowledge of the Heavenly force that is also at work throughout our nation.
The time for The Protector is now.